Why Kinetic Sports Rehab Employees Love Their Work (and Their Co-Workers)
Kinetic makes the list of WA's 100 Best Companies to Work For in 2017
By Teresa Kenney July 13, 2017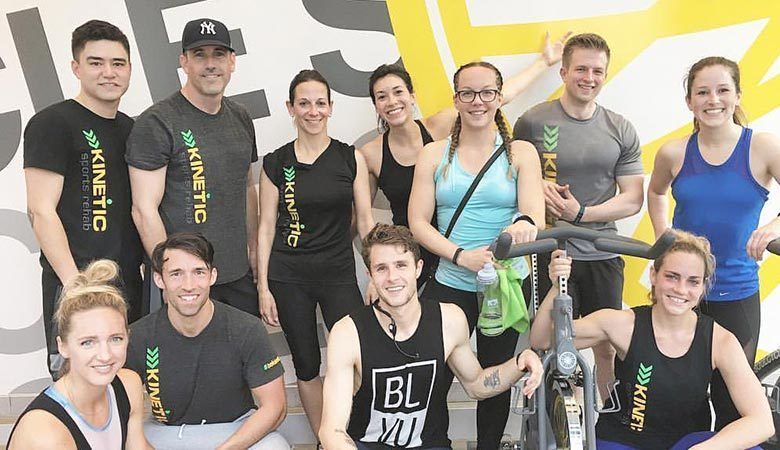 sponsored by Kinetic Sports Rehab
This article is part of a series focusing on select companies who placed among WA's 100 Best Companies to Work For in 2017, as determined by employee surveys that measure their perceptions and satisfaction across 61 individual attributes within 10 employment categories.
Kinetic Sports Rehab is in the business of rewriting stories. The Seattle-based clinic combines the best of chiropractic and physical therapies to offer top-level treatment that can change your story from what you were capable of doing following your injury, to what you are capable of doing after experiencing Kinetic Sports Rehabs techniques.
At Kinetic, we stress the importance of movement and changing your story says one clinician. Seeing all of the lives we touch and all the people who are able to experience life fully after our treatment is inspiring, and that is the reason I love working here. It has made me want to make my own positive changes to my story. I can't imagine working anywhere better than Kinetic Sports Rehab.
Established in 2010, Kinetic has two in-city locationsone in Fremont and another in Green Lakeand offers a hybrid of manual therapy, sports chiropractic and sports medicine. Patients may be suffering from a recent injury or chronic pain or they may just be weekend warriors looking to improve their sports performance.
Patients Come First
Understanding that every body is different, the sports clinic customizes a treatment plan for each of its clients so that they not only reach their goals, they surpass them.
We combine the best of both worlds between exercise rehab and chiropractic in order to give the patient exactly what they need, notes a Kinetic medical professional. Every team member makes sure that the patients get a one-of-a-kind experience at the office….our patients say that we do not feel like a doctor's office, and they almost forget they are injured when they are here. We have many patients stop by who we haven't seen in six months or more just to say hello and tell us they are doing well. Patients come first, and everyone is heard.
The clinics team members share Kinetics mission.
Says one, I've never dreamed I could be a part of a team of people that shared my personal mission the way everyone in Kinetic does. As a doctor in the clinic, there is nowhere else in this industry that could provide the opportunities to grow that this company has. It really feels like that mission carries over into the enthusiasm and commitment to our patients and the company's success.
Co-Workers and Friends
According to a report by Globoforce, work friendships drive work happiness. 51% of us, on average, spend more than 30 hours each week with family, while a whopping 91% of us spend more than 30 hours on average each week with colleagues. So its especially telling that the team at Kinetic Sports Rehab genuinely enjoy being with their coworkers.
When I first started working here, I thought it was some sort of joke because everyone was so happy all of the time, and everyone was so welcoming and friendly, says one employee. I quickly found out it was not a joke; everyone at Kinetic simply loves their jobs and the work we do with our community. Working here is fast paced and high energy. Honestly, through osmosis, working at Kinetic has made me a more positive and outgoing individual.
Another comments that the Kinetic team loves each other and is always committed to the company no matter what circumstances we are facing. My team is full of the most unselfish people I've ever been with and are always picking each other up when we are down and praising each other when we are up.
In fact, the Kinetic group enjoys each other so much, many employees noted that they have even been known to hang out, post-work, on the weekends.
We place a strong emphasis on culture and finding the right fit, comments one employee. We have low turnover rates, and it really goes to show that every weekend, there is a group of us out doing something we all enjoy. It makes work so much more enjoyable when you do it with friends…Kinetic has an amazing team, we work together like a well-oiled machine. We love helping our patients, and we are all on the same journey with a mutual end goal in mind!
Adds another, We have a close relationship and are much like a family instead of simply coworkers. Every person at this office is someone that I actively want to spend time with inside and outside of work. We work seamlessly to deliver an extremely effective environment and experience for our patients and each other.
Focused and Fearless Leadership
Employees point to Kinetics leadership, and specifically CEO and founder Dr. Michael Bourbonnais, for the companys welcoming and supportive culture. Dr. Mike is very engaged and actively looking for ways to improve, says one, while another notes, Our leaders are focused, positive and fearless. They have created an environment where everyone is valued equally and on the same playing field.
From the top down, the company is a purpose business, and as such, gives back at home and around the world.
This year, Kinetic is donating a portion of its profits to help build a school in Africa, Laos or South America. Closer to home, they help at-risk students at Seattle Urban Academy and provide free fitness, wellness and health classes to underserved teens in King County.
And as is the case with strong leadership, open communication is key. Says one happy Kinetic professional, the transparency shown by leadership makes Kinetic Sports Rehab the best-cultured place I've ever worked. The honesty and openness leads to more communication, ownership of roles, and pride in the ethics of what we are creating
Our motto of changing people's stories does not only apply to patients we help, the employee continues, but definitely also to the employees who have become a part of this tribe. We have a strong, well-respected presence in the community, which has been developed through passionate people being given responsibility and encouraged to be creative. My company is going to be a movement, and I am fully on board because of the groundwork laid by the phenomenal individuals in leadership, and the vision they have is built on the cornerstone of an awesome culture.
Learn more about careers at Kinetic Sports Rehab at KineticSportsRehab.com, and find out more about WA's 100 Best Companies to Work For in 2017.