2019 Tech Impact Awards, Emerging Companies: LevelTen Energy Inc.
Plus: Silver Award winners HaptX Inc. and WEconnect Health Management
By Bill Conroy & Rob Smith September 24, 2019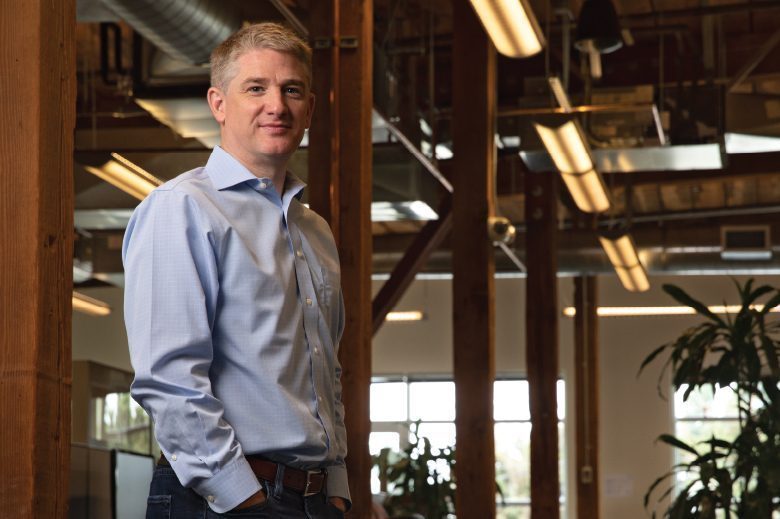 This article appears in print in the October 2019 issue. See more about the winners of the 2019 Tech Impact Awards here. Click here for a free subscription.
LevelTen Energy Inc.
Location: Seattle
LevelTen energy got off to a strong start this year by raising $20.5 million in a Series B funding round. Just days later, the Seattle startup whose platform allows companies to more quickly and efficiently fund renewable energy products struck a deal with Starbucks Corp. on a three-project renewable energy portfolio that provides clean power to more than 3,000 Starbucks stores across the United States.
For founder and Chief Executive Officer Bryce Smith, the deals are further proof that society is ready for large-scale renewable energy projects. The Starbucks deal is really the first public demonstration of this mutual-fund concept in renewable energy, he says. As they shift to renewables, they want their purchases to reflect where they do business.
The deal allows Starbucks to simultaneously procure a fraction of the power generated by multiple energy products. Until recently, the purchasing model has been that of one corporate buyer to just one energy project. LevelTen also has signed large deals with Salesforce.com Inc., Cox Media Group, Bloomberg L.P. and others. The company, which now has 26 employees, has raised a total of more than $27 million.
Silver Awards
HaptX Inc.
Location: Seattle
HaptX Inc. has its finger on the pulse of the virtual-reality (VR) world, literally. The company develops technology that simulates the sense of touch to enable realistic feedback in VR environments. Formerly called AxonVR, HaptX was founded in 2012 by Jake Rubin and Bob Crockett. Today, it employs 35 and has raised at least $9 million in capital. Its HaptX Gloves [haptic refers to touch control] incorporate 130 tactile sensors that provide realistic touch sensation and empower professional VR users to develop simulations with realistic touch feedback and natural interaction for the first time, the company says.
WEconnect Health Management
Location: Seattle
WEconnect Health Management is attacking a thorny problem in modern society: substance abuse. The company created an app that allows clinical teams to monitor individuals recovering from substance abuse, providing real-time progress reports. The app, used by thousands of patients, targets the first year of recovery. It uses proprietary technology to alert clinical teams of a members risk of relapse to drugs or alcohol before it happens, the company says. WEconnect has attracted the interest of investors like Fred Luddy, founder of digital-workflow firm ServiceNow, who, along with several other backers, invested $6 million in WEconnect late last year.