Costco's First Warehouse Store Was a Springboard to Global Growth
By Bill Conroy September 17, 2019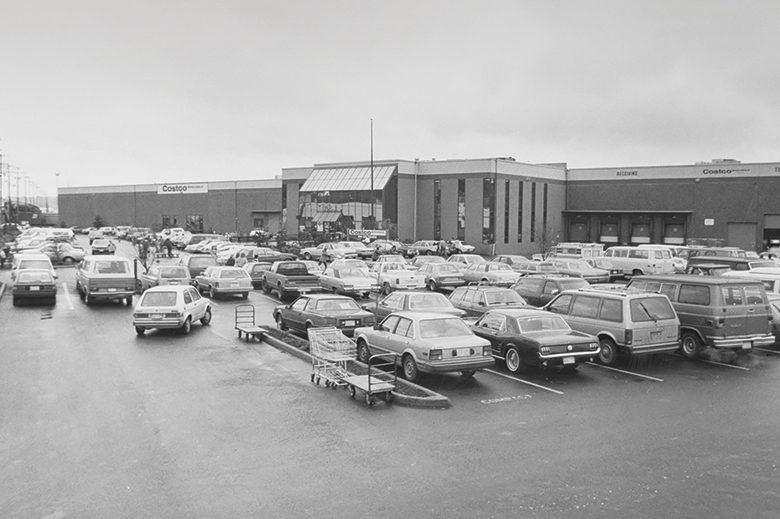 This article appears in the September 2019 issue. Click here for a free subscription.
The now-ubiquitous retailer Costco Wholesale opened its first discount warehouse on Sept. 15, 1983, at 4401 Fourth Ave. S. in Seattle. Before the year was over, Costco unveiled two more warehouse outlets, one in Spokane and the other in Portland, Oregon.
In 1985, Costco debuted its first hot-dog cart, at its Seattle store with a hot dog and soda selling for $1.50. That same year, the retailer made a public offering of stock, and two years later it eclipsed $1 billion in sales. On Costcos 10th anniversary in 1993, it merged with competitor Price Club.
The original Costco store on Fourth Avenue served as the companys corporate offices until they were relocated to Kirkland in 1987. That first warehouse outlet, built originally for the Western Marine Supply Co., operated until 2005, when a new Costco store opened on an adjacent lot.
There used to be a school building next to the [original Costco] building, says Costco spokesperson Muriel Cooper. When the school moved, Costco bought the lot, tore down the old [school] building, built a new warehouse on that spot and expanded. We were able to keep the same address.
As of this past June, the retail giant, based in Issaquah since 1996, operated a total of 777 warehouse stores across the United States., Puerto Rico and in 10 foreign lands stretching from Japan to Mexico. Costco, which recorded net income of $3.1 billion on net sales of $138 billion in fiscal 2018, now employs more than 243,000 people and claims more than 97 million cardholding members.