Patently Obvious: Intellectual Property Business Is Booming
By Paul Freeman March 15, 2012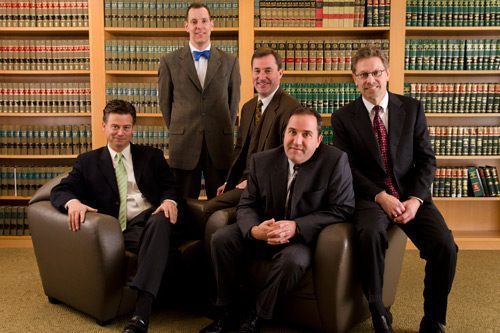 Washingtons economy may be stuck in neutral, but for the states patent lawyers, its full speed ahead. The growing importance of patent protection for business behemoths like Amazon, Boeing and Microsoft, as well as for a host of other technology companies, has created a growing demand for lawyers who know how to write patent applications and prosecute them before the U.S. Patent & Trademark Office. Patent lawyers can charge clients more than colleagues in other practice areas. And while theyre not immune from economic downturns, theyve weathered the current slump quite nicely. Were busier than weve been for years, says patent lawyer Lewis Lee of Spokanes Lee & Hayes.
Besides burgeoning, the demand for lawyers who provide prepros servicesthat is, writing and prosecuting patent applicationsis reshaping the legal landscape. Turn the clock back a couple of decades. Two Seattle IP boutiques dominated local patent law practice: Seed & Berry (now Seed Intellectual Property Law Group) and Christensen OConnor Johnson Kindness. General practice firms routinely referred clients with patent and other IP matters to these boutiques. Over time, however, the general practice firms realized they were passing up a valuable revenue source. They wanted to suck all that IP out, says George Rondeau Jr., a patent lawyer at Seattles Davis Wright Tremaine. First, they began sucking out copyright and trademark matters. Then they went after patent work.
To attract and retain this work, large law firms had to enhance their patent law capabilities, in some cases creating them from scratch. The results have been remarkable. Davis Wright Tremaine didnt hire its first patent lawyer until 12 years ago. Today, the firm has 27 of them. Seattles Perkins Coie had just eight lawyers doing patent work in 1999. Today, about 170 lawyers and patent agents handle patent prosecution and patent litigation, about 45 of them in the Seattle office.
This growth has come primarily by luring lawyers away from boutique IP firms. A recent example: In August 2011, six lawyers jumped to Seattles Foster Pepper from Seattles Black Lowe & Graham (now Lowe Graham Jones). Until they arrived, Foster Pepper had no patent law capability. As a result of similar brain drains from IP boutiques during the past 10 years, a number have downsized or been forced to shut their doors.
A related development: Eager to cash in on what they perceive as a patent law bonanza, regional and national firms have opened offices in the Seattle area. The invaders include Californias Cooley, Pennsylvanias Woodcock Washburn and Californias Knobbe Martens, whose nine-lawyer office opened in 2008. Our firm has always viewed the Northwest as a good area in the telecom and software spaces, says Mauricio Eribe, a partner in the Knobbe Martens office in Seattle, who sees life sciences and green tech as potential growth areas.
And all that growth among the large firms hasnt exaclty hurt the remaining boutique patent firms. We are as strong as weve been in a long time, says Karl Hermanns, managing partner at Seed Intellectual Property Law Group. Since this is all we do, we continue to attract the sophisticated client.
Not only are more firms doing more patent work for more clients, theyre also doing it under a new patent statute, the Leahy-Smith America Invents Act. Signed into law by President Obama last September, the act replaces its 1952 predecessor. The most-discussed provision: Beginning in March 2013, United States patents no longer will be awarded on a first-to-invent basis; instead, theyll be given to the first to file, the rule long embraced by the rest of the world.
Some critics contend the new law favors large businesses able to afford the legal horsepower needed to prepare applications on a rush basis, thereby disadvantaging smaller companies and individual inventors who lack the resources to file early. Yet for years, thats been the pattern under our countrys first-to-invent rule, which is why many patent lawyers dont expect any radical changes in filing or award dynamics under the new statute. While the act looks like a big deal, it may be a false sense of alarm, says Foster Peppers Richard Black.
To learn more about this law, patent lawyers are crowding into legal continuing education programs. Were scratching our heads on how its going to work, says Black. Rondeau agrees. The new law will give us all sleepless nights, he predicts.
A key question is the extent to which patent lawyers need to accelerate the preparation of patent applications. Once the first-to-file rule becomes effective, patent lawyers might feel compelled to prepare applications in a hurry. And that may mean hiring a larger workforce, says Paul Parker, a patent lawyer at Perkins Coie. It also will require achieving an appropriate balance between speed and quality. You dont want to rush so much that youre prevented from doing a good job, cautions Lee.
Even before the America Invents Act became law, firms had been on the hunt for associates. They want lawyers who have technical expertiseand often advanced degreesin one or more technologies. In Washington state, both computer arts and electrical engineering are highly prized.
Lots of people think of patent attorneys as highly technical, says Sam Webb of Stoel Rives. Patent lawyers, he emphasizes, must be both good technicians and good advocates. Individuals with this dual expertise constitute a relatively small pool from which to draw talent, partly because most firms dont want freshly minted law graduates; instead, they seek individuals who have practiced for at least two years. This approach avoids spending time and money training new hires.
Trying to find that person is harder and harder, says Lee, whose Spokane firm has been on a hiring binge. But the Seattle area is an attractive place to live, with fewer openings for patent lawyers than places like Silicon Valley. Consequently, its more of a buyers market here than in some other parts of the country. Its a good time to hire a patent attorney, notes Rondeau.
Because patent lawyers have both law and technical degrees, theyre able to charge more for their services. In the Seattle area, hourly rates range from about $200 for an associate to $550 for an experienced partner. Associates prepare applications; partners review them. The cost of preparing a typical patent application may run $8,000 to $15,000, depending on technology and complexity. Some patent applications are 800 pages long, says Black. At the upper end of the cost range are biotech patents, which often require patent lawyers with doctorates. Successfully shepherding an application through the Patent & Trademark Office can take several years and add thousands more to a clients bill. As the number of patent lawyers in the state grows, however, clients have more options on where to take their patent work. Gone are the days when a lawyer says, Take it or leave it, says Webb.
Patent lawyers didnt escape the recession entirely, as even large companies tightened patent budgets and startups couldnt secure the funding needed to move forward in the patent area. But its picking up again, with both new and established businesses spending more on patent protection. Consider these Perkins Coie stats: In 2008, it filed 2,700 patent applications firmwide, but in 2009, just 1,600 applications. The number of 2011 filings jumped back up to the 2008 level.
Domestic companies are not the only ones fueling the demand for patent law services. Foreign companies entering the United States market want the protection an American patent provides. The United States will continue to be a leader in patent filings because of its robust enforcement system, says Kevan Morgan, a patent lawyer with Christensen OConnor Johnson Kindness. A growing number of these foreign companies are from China. Theres lots of inventing activity in China, says Parker. Theyre not just manufacturing products based on our ideas, but creating new inventions.
Like many patent lawyers, Lee is bullish about the future. Barring a geopolitical meltdown, he says, patent law work will continue to grow. And this growth, he adds, may turn out to be a leading indicator of an economy shifting from neutral to drive.
Top Washington patent awardees in 2011
Microsoft 2,151
The Boeing Company 397
Amazon Technologies 166
The Invention Science Fund I 147
Sharp Laboratories of America 133
The data reflect patents assigned to individual inventors residing in Washington state. Attorneys with Stoel Rives LLP gathered the data from Google, which in cooperation with the U.S. Patent & Trademark Office provides the full text of U.S. patents.