The 2016 Leaders in Health Care Awards: Outstanding Achievement in Delivery of Digital Health
Winner: David Baker, University of Washington; Silver Award: HealthSparq
By Karen West March 21, 2016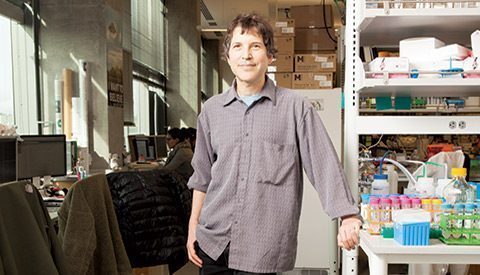 WINNER
David Baker
Professor of Biochemistry, University of Washington, Seattle
Designing a whole new world of proteins to address 21st-century problems in biomedicine, energy and technology is all in a days work for David Baker.
Baker, who is a member of the National Academy of Sciences and the American Academy of Sciences, is leading a team of researchers tackling the problem of protein folding with an online puzzle video game. A world-renowned expert in proteomics, Baker has his research group developing methods to predict and design the three-dimensional structures of proteins.
Working with the UW Center for Game Science, Baker created an online game Foldit that has allowed more than 300,000 citizen scientists to help solve one of the most difficult problems in biology: protein structure. His research team embedded biochemistry simulations in the game. Foldit is just one of the many projects his lab is working on. His teams work is frequently published in Science and Nature and other journals.
In 2012, the Center for Game Science and Foldit made Fast Company magazines list of the Worlds 50 Most Innovative Companies. We aim to be a company factory spinning out new companies based on new designed proteins in the Seattle area, Baker says.
SILVER AWARD
HealthSparq
Seattle
HealthSparq is rewiring the way people interact with the health care system. The company is a leading provider of comparison tools that let consumers shop for more than 400 medical procedures based on cost and quality information. Using HealthSparqs tools, people can see the total cost of care theyre responsible for paying out of pocket and also the amount their insurance will cover. HealthSparq is committed to disrupting the way people interact with health care, giving them more information and control than they have ever had before.