Executive Q+A With Harvey Kanter
CEO has put Blue Nile back in the diamond lane.
By Leslie Helm March 9, 2017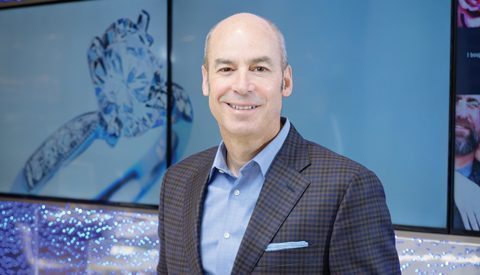 Harvey Kanter has taken Blue Nile, a struggling online jeweler, and returned it to a growth trajectory. In November, the publicly traded company with 350 employees reached a $500 million agreement to be taken private by an investor group composed of funds managed by Bain Capital Private Equity and Bow Street LLC.
EARLY DAYS: Dad was a fifth-generation retailer. He worked for Korvettes and Gertz, which were the Target stores of the day [in the New York area]. He moved from New York to Green Bay to work for H.C. Prange, then was recruited to Target. Dad traveled the world, but he always came home happy. I always liked the excitement of going shopping, and always wanted to be a retailer. I figured if I did what Dad did I would be happy.
LESSONS: I learned three things from Dad about retail: 1. Its about values: If you do the right things and work hard he went to work early and came back late things would work out. 2. I grew up in Green Bay, Wisconsin, and Minneapolis, Minnesota, with the Midwestern values that any day is not as bad or as good as you think it is. Its all about your convictions, what you do when no one is looking. 3. Never lose site of the importance of family.
EDUCATION: I went to Arizona State University and then got my masters at Babson College [outside Boston], which had a strong program in retail and entrepreneurship. On graduation, I entered an executive training program at Carter Hawley Hales Broadway Stores operation. I had a great mentor who assigned me to seven different jobs in eight years everything from merchandizing womens clothes to planning.
CAREER: Over the next 14 years, I worked at four different companies and came to be known as a fix-it guy. I believe the greatest plans dont materialize without flawless execution, and thats driven by a strong orientation to process, structure and discipline. At Aaron Brothers, the picture-framing company, it was about lowering administrative costs while making the [consumers] purchase more experiential. At Eddie Bauer Home, the problem was that they had too much product, and it was unclear what their identity was. Eddie Bauer sent me to an executive training program at Seattle University that was life-changing. I learned that one key to management was helping employees be as great as they want to become.
LIFE CHANGES: I used to be the traditional type A personality. I was very accomplishment oriented. In 2007, at age 38, I was diagnosed with cancer [Hodgkin lymphoma]. I faced my mortality. Recognizing that there are no guarantees helps me to let more roll off my shoulders.
BLUE NILE: In 2012, I got a call from a recruiter about Blue Nile. I knew nothing about jewelry. But after talking to cofounder Mark Vadon, I realized Blue Nile was different from any business in the world and it would be great to find ways to reignite growth. At the time, the company was having success selling engagement rings to men, but wasnt engaging women. Our online marketing to women ended up helping the engagement side, which grew by 20 percent a year. We have worldwide exclusivity for online distribution of jewelry designed by Monique Lhuillier, a top bridal gown designer. It has a distinctive style.
PRICING: Our jewelry sells for 40 percent below traditional jewelry stores. Our profit margin on engagement rings is in the teens. In that sense, we have more of a Costco orientation [which has a 14 percent markup on its products]. We arent going to be the cheapest, but we have quality equal to Tiffany and a compelling experience. A lot of customers will come to us with a budget and we will down-sell them. If they want a 1-carat stone, for example, we point out that they can get a .96-carat stone for much less and spend the savings on a finer-quality cut.
CUSTOMER EXPERIENCE: We offer live chats and also have a toll-free number. Typically, a man will spend one to three months buying a diamond ring. Sixty-six percent of our customer contacts are from a mobile phone. We have an app for women that includes a dream box. Each time you shake the phone, you see a different type of ring. The average viewer shakes it 27 times. We have 360-degree, high-definition pictures of 16,000 stones now and will have a majority of our 194,000 stones viewable in HD 360 by next spring. We also have a virtual reality service that takes the ring you like and places it on your finger. Then you can mail the image to him.
BRICK AND MORTAR: Millenials want choice. We know some want to touch and feel the rings, so in 2013 we opened locations inside Nordstrom stores. Then we rolled out our Webroom concept. We now have five stores, including one that opened in Bellevue in November. Salespeople are not on commission. We arent transaction based. We want to offer an experience that is so compelling that the buyer will come back for the bridal band, for other jewelry and the 50th wedding anniversary.
EXECUTIVE Q+A RESPONSES HAVE BEEN EDITED AND CONDENSED.
TAKE 5: Get to Know Harvey Kanter
1. Escape: I wanted to be a Formula One driver when I was young. I still like Formula One racing. Youre going 140 miles an hour. People die doing this, so you focus and forget about everything else. Its a release, like being under anesthesia for 30 minutes.
2. Favorite Place: Tiger Mountain. I bike ride a ton. I like to get into the hills. Ill bicycle for two hours, turn pedals and get into a zone.
3. BOOKSHELF: I enjoyed Road to Valor, the true story of a Tour de France bike rider who helped the Jews during World War II. I also like Power of Purpose, a business book about how you help create definition. I use it a lot."
4. Charity: I ride the [Fred Hutch bicycle fundraiser] Obliteride. As a cancer survivor, Im committed to the cause and weve become the fourth-highest money raiser for Obliteride. We have 34 riders. We are also heavily involved in the Jewelers for Children charity.
5. Extracurricular: Kanter serves on the board of Potbelly Sandwich Works, which has more than 300 stores nationwide.