Tami Fujii turns a lifetime love of golf into a growing business
By Edited and Condensed by Rob Smith December 9, 2021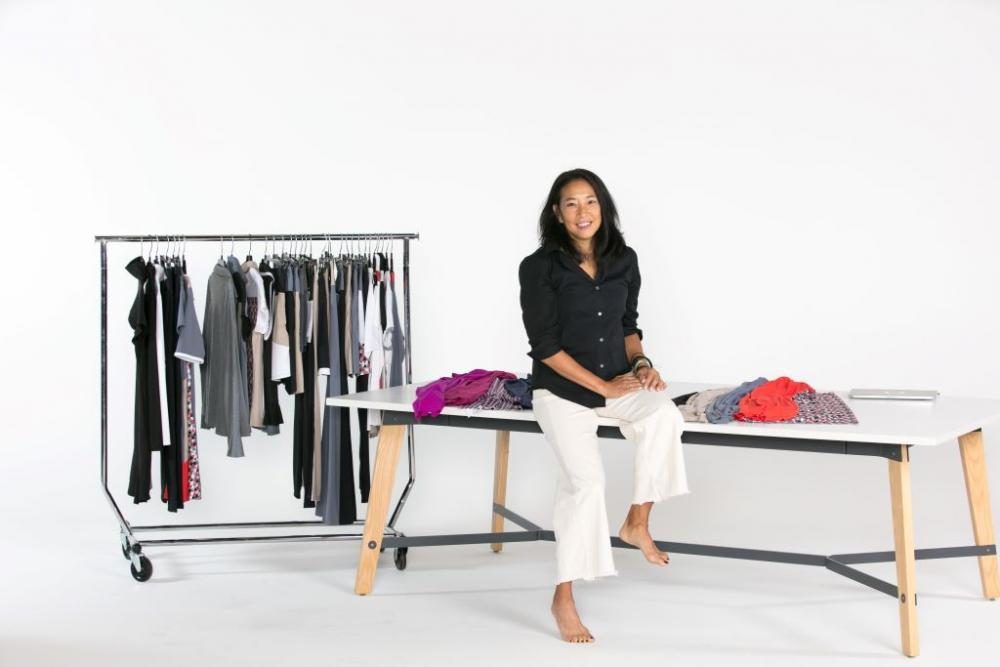 To golf aficionado Tami Fujii, the sport consists of a lot more than a 3-wood down the middle of the fairway or a 35-foot putt for birdie. Fujii is the cofounder and chief strategist at Kinona, a growing online womens golf apparel and fashion company whose products are also found in 300 pro shops across the United States, including 10 in Washington. The company is coheadquartered in Bellevue, where Fujii lives with her husband, and Rancho Mirage, Calif., where her cofounder, Dianne Jeffries Celuch, resides.
Prior to launching Kinona in 2017, Fujii held marketing roles at Eddie Bauer, T-Mobile and Microsoft, and also launched a consulting firm that specialized in brand marketing, merchandising and product development. Fujii credits her parents with instilling a strong work ethic. They were born and raised during the Depression, she says. Work, grit and always being humble are part of my DNA. She learned to golf with her parents during family vacations.
LEADERSHIP TRAITS
Leadership, for me, is something that has developed over time. Setting a vision and continually voicing it has helped me to understand the importance of being a great communicator. Having open communication and a vision to reference has allowed my team to find the best way to reach their goals. I have found that this not only builds trust, but also allows me to coach others more effectively. While the term is overused, authenticity is also important as a strong leader. When I was younger, I lived in the world of fake it till you make it. Reflecting back, just using the words, I don't know, but we will figure it out together is so much more liberating and authentic. The rest of it, I had to learn by watching, listening and learning from my mistakes.
BARRIERS
Trusting their own voice and being able to effectively advocate on their own behalf. I see women often overdo consensus building in an effort to gain alignment. Further to that, while women are awesome at advocating for their team and others, some tend to do a poor job of advocating for themselves.
PROMINENCE
Take chances leading and working on different teams. If you are a strong leader, those traits are highly transferable into different parts of the organization. Women should consider moves into areas that may not exactly be their area of expertise, as a way to learn and gain more exposure. I have always been a product marketer, but when the chance came to lead a sales organization, I jumped at the opportunity. I felt that for me to be an effective leader, it was important to gain the perspective of the field. While this was not an easy transition, I was glad to make the leap. When I ultimately went back to marketing, it made me a more effective leader and gave me street cred with the sales team.
LESSONS LEARNED
Celebrate the wins wholeheartedly. Live in the joy of the victories. All the negative stories you tell yourself are made up. They arent real. Express gratitude openly. Embrace the uncomfortable and hard conversations. That is where you find growth and increased connection.
ADVICE
Run toward your next thing versus running away. Let the real you show through. When I was a young leader, I felt that I needed to be buttoned up 24/7 and not show any chinks in the armor. While this is good for some situations, I felt my most authentic self when I was more vulnerable as a leader. Always be curious. If something piques your interest for whatever reason, stay with it and dig in.
NETWORKING
When I ultimately moved from a corporate career to my own startup, networking was vital. Hello, Im in marketing! Even during my corporate career, I embraced networking. My nature and personality is all about meeting people, hearing their stories and journey. You can always find a common theme with people that you meet. Now that I own my own business, I am in awe over how casual business acquaintances have been so open to help and offer advice. Many of the people that I have met over coffee for a meet/greet have become some of my closest advisers and, ultimately, friends.
DO DIFFERENTLY
I would be more willing to ask for help versus trying to fix it all myself. I would take more time off for fun and to recharge my batteries. Even when taking PTO with an out-of-office message, I would still be connected. I would do a better job at completely disconnecting.
UNWIND
On the golf course or preparing a family dinner.
AUTOBIOGRAPHY TITLE
Grateful Ever After.
Know a Daring Woman? Want to be a Daring Woman?
Seattle Business magazine is always looking for submissions for its Daring Women profile. The profile showcases top-level executives in organizations throughout Washington state.
To nominate, please complete the form below.