Seattle Ranks as a National Leader in High-Rise Apartment Development
High-rise residential development in Seattle has soared over the past decade, new study shows
By Bill Conroy November 26, 2019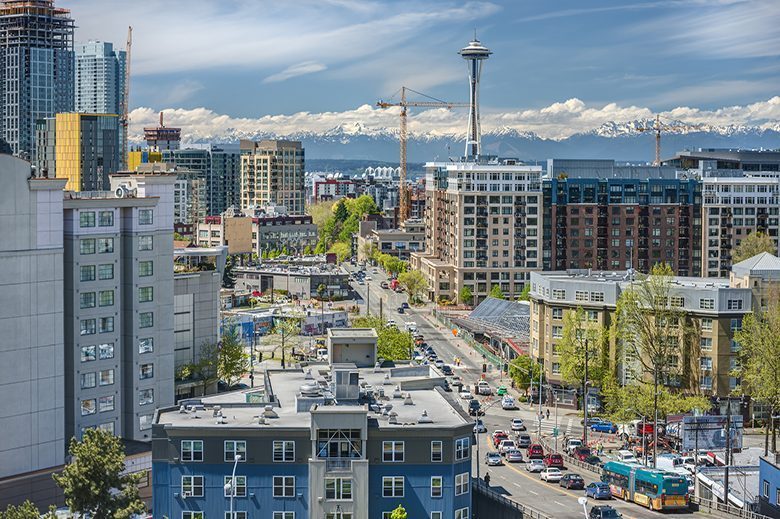 Seattle is growing up, literally, when it comes to its housing market, ranking fourth among the 30 largest cities in the country in an assessment of cities with most high-rise apartment complexes built over the past decade, a recent RentCafe study shows.
High-rise apartment buildings represented 9% of all new multifamily development in the city over the past decade, up from 5% in the 1990s, the study found.
Of the 26 residential high-rises delivered in the last decade, six were skyscrapers (of 40-plus floors), according to the report by the apartment-search platform RentCafe. No wonder the average number of floors for all types of apartment buildings in Seattle went from five in the '90s to eight in the current decade.
Ranking ahead of Seattle on the high-rise apartment front is New York, with 112 projects developed between 2010 and 2018, followed by Chicago, at 71; and Philadelphia, at 27. Trailing Seattle is Boston, with 24 high-rise apartment developments over the period, followed by Dallas, at 23; and Los Angeles and Houston, with 20 each.
For the purposes of the study, a high-rise is defined as a building with 13 or more floors while a skyscraper is defined as a property with more than 40 floors.
Seattle witnessed a veritable residential high-rise boom in the last decade, the RentCafe report says. The number of completed apartment high-rises [in the city] jumped from three in the '90s to a significant 26 in the '10s.
The trend toward high-rise apartment development in Seattle is likely to continue in the coming decade, as Seattle Business reported earlier this year. Seattle has seen the number of jobs and people living and working in downtown grow by nearly 40 percent over the past decade, giving rise to a report from the Downtown Seattle Association that contends unless Seattle adjusts its zoning guidelines, the downtown area will have only a few viable sites for the next development cycle.
One solution is to expand vertically, rather than horizontally near mass transit stations, allowing mid- and high-rise development projects that create densely populated vertical neighborhoods mini-downtowns that combine housing, restaurants, shops and offices. This past March, the Seattle City Council unanimously approved a controversial plan to rezone for more intensive use, or upzone, portions of 27 neighborhoods and several commercial corridors, which encourages denser development and more high-rise buildings.