The Center of the Green Building Universe
Fremont neighborhood boasts some of the city's greenest buildings
By Sean Meyers October 4, 2021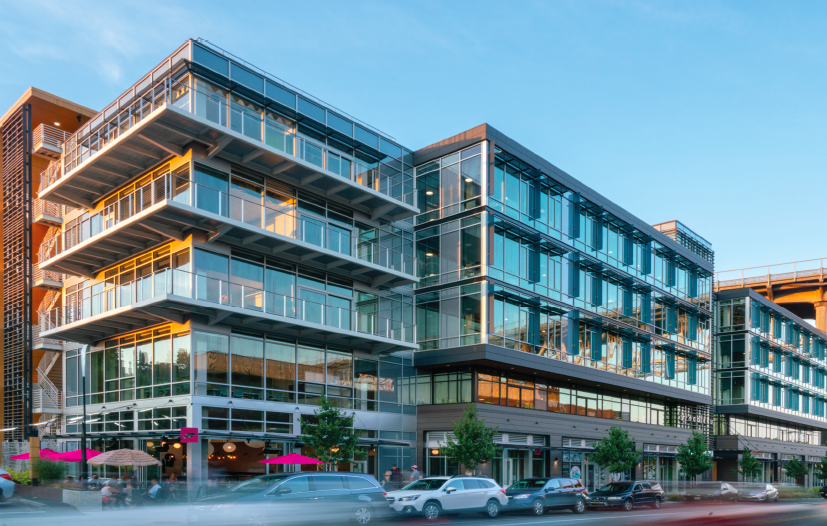 This story is featured in the October issue of Seattle Business magazine. Subscribe here to access the print edition.
Strategically on the north lip of the Lake Washington Ship Canal, Fremont is no stranger to being squeezed between the changing tides of commerce.
Founded in 1888 as a natural hub of timber, industry and transportation, Fremonts fortunes rose with the canal, an engineering marvel that connected the fresh water of Lake Washington to the salt water of Puget Sound.
Another impressive engineering achievement the Aurora Bridge, which opened in 1932 set Fremonts economic decline in motion, effectively demoting it to a highway exit.
By the 1960s, it was overrun by a bohemian crowd with a fondness for cheap lofts and playful, lofty mottos, including The City that Recycles Itself and The Center of the Universe.
The low rents have long disappeared, but the high ambition survives. Fremont has become The Center of Seattles Green Building Revolution, with a rapidly evolving waterfront that provides a glimpse into the high-tech office building of the post-pandemic future.
Weber Thompson, one of Seattles top sustainable architecture firms, is among those leading the charge in the neighborhood.
I was expecting a lull in business from the pandemic, but there really hasnt been one for us. I think the roof is going to blow off (when society opens up again) says Kristen Scott, Weber Thompson managing partner and senior principal. Theres going to be an explosion of new design projects, and thats going to create another boom in construction three or four years down the road.
Fremont is home to three of the first four Seattle structures successfully built to Living Building Pilot, or LBP, standards. The LBP program is the city of Seattles toughest boot camp for serious green builders. Architectural hard bodies who complete the obstacle course can win zoning variances allowing substantially larger buildings.
Two of those Fremont LBP projects are office buildings: Stone 34 and Watershed. The third is Inspire, a 42-unit, five-story apartment complex featuring 244 solar panels and billed as Seattles first carbon-positive building. The citys first LBP building was the highly regarded Bullitt Center, which opened in the Capitol Hill neighborhood on Earth Day in 2013.
Why Fremont? The community is diverse, quirky and vibrant, and is home to a growing tech hub. Its historically lunch-pail canal district invites mixed-use development with its connection to water and top-rated bikeways. The Fremont Neighborhood Council has long been supportive of green, sustainable building in the neighborhood, emphasizing environmentally sustainable construction that adds value.
While it may seem like an obvious decision to support deep green projects, it is not always popular, wrote former Board President Erik Pihl on the council website last year. Development is happening and will continue to happen, so we can help shape the future by supporting projects such as Watershed and Stone 34.
Fremont boasts a wide variety of green landmarks, including the North Transfer Station, which underwent a $108 million makeover five years ago; B.F. Day Elementary School, one of the citys first schools to install a rain garden designed to give students hands-on experience in planting native species to collect, filter and absorb pollutants from storm water, as well as reduce runoff into the ship canal; and a PCC Community Markets store was the first business in Seattle to install a solar panel, a three-kW demonstration project. In nearby Ballard, PCC recently unveiled the worlds first grocery store that is Living Building Challenge Petal Certified.
Dunn Lumber, a Fremont-area mainstay since 1907, is also building a new highly sustainable mass timber headquarters, including offices, retail, warehouse and yard space.
Mark Grey was once skeptical about all the green building in the neighborhood, but has now become nothing short of an evangelist. Grey is principal of Stephen C. Gray & Associates LLC, a Seattle property and asset management firm with offices on North Northlake Way above Westward restaurant. The firm was involved in both the Stone 34 and Tableau Data 1 buildings in Fremont.
Grey credits Weber Thompson for the neighborhoods green explosion and says he is in close contact with the Fremont Neighborhood Council and other community groups.
Im sure other people make more money by building a cheaper building, says Grey, who notes that green buildings are more expensive to build but carry lower operating costs. Were willing to take less margin to build something better for the World and for the tenants.
Pihl says developers often approach the council seeking input on their projects. He calls development of Fremont and other neighborhoods inevitable, adding that the key is a positive rather than negative impact on the neighborhood.
Some neighborhood groups, he says, are opposed to virtually all kinds of development. We knew developers would come, he notes. We prioritize developers that work with our values, like sustainability and a low environmental footprint. We recognize that they could put in all different types of projects and try to work with them to satisfy what we want.
If Weber Thompson is reading the market correctly, the high-tech office building of the future is a beautiful, light, airy place that promotes health and happiness, and reconnects occupants with nature. It offers fluid and collaborative spaces, and generates more energy than it uses, captures and treats all water on-site, and is constructed exclusively with healthy materials.
Were ahead of the curve in addressing a lot of the questions the pandemic brought about, Scott says.
Fremonts green office revolution has strong roots in the established office hub of South Lake Union. In 2006, Weber Thompson, then a growing multifamily and affordable housing firm, made an aggressive push into the office market when it convinced a developer to go radically green and commit to a project without air conditioning. No one had built such a structure in Seattle for decades.
People thought we were crazy, and even the developers thought we were pushing it too far. But, remarkably, they let us proceed, since we were going to be the majority tenant, Scott says.
As advertised, the Terry Thomas Building kept its cool.
It was like sitting in the shade of a very large tree with a gentle breeze blowing by, Scott says of summer afternoons in the building, which was completed in 2008.
In the annals of first forays, it proved to be a doozy. In January, 13 years after construction was completed, the ultra-green building sold for $52.15 million. The $1,173 per-square-foot price tag was the most ever paid for a Seattle commercial building.
The Terry Thomas very directly and concisely showed all of our clients how practical and easy it could be to build sustainably. It was also a huge driver in attracting talented designers, says Scott, who was employee No. 1 at Weber Thompson 30 years ago. She now leads a staff of 70.
The office is an architectural firms calling card, and Weber Thompson liked the feel of Fremont for a new beginning.
The firm had recently completed the shell and core design of Data 1, a 110,000-square-foot, five-story LEED Gold mixed-use office building for Tableau Softwares Fremont-Wallingford campus.
Tableau sparked the office building frenzy on the canal with the construction of its headquarters in the 1990s. The data visualization company, which was purchased by San Francisco-based Salesforce for $15.7 billion two years ago, has steadily increased its local real estate portfolio over the years.
Weber Thompsons new home is multiple award-winning Watershed, a seven-story commercial building the firm designed for Hess Callahan Grey Group. Completed in 2020, it features 61,000 square feet of office and 5,000 square feet of retail space.
Watersheds parking garage includes places for 100 bikes, but just 14 cars. Innovations include operable windows and auto-mated ventilation, a Weber Thompson mainstay. On the roof, beehives produce honey that is distributed to tenants.
LBP participants can choose one of several petal pathways to certification. Watershed qualified under the materials petal, which required designers to vet 600 construction elements.
The technology is already there. Were just using it in different, creative ways, says Myer Harrell, Weber Thompsons director of sustainability. Weve learned a ton about where the market is, and where the materials are.
Harrell believes the death of the American office has been exaggerated. He was recently named the American Institute of Architectures National Young Architect of the Year, an award based in part on his portfolio of Fremont projects.
I think more people are going to want to return to work in an office than what is being predicted, Harrell says. The question is, how do you go beyond being just a building where people work?
Many of the buildings in Fremonts business district were constructed between 1905 and 1915. The neighborhood doesnt have a distinct architectural sensibility, but has a strong culture of not taking itself too seriously, as evidenced by The Fremont Rocket sculpture, The Statue of Lenin and The Fremont Troll sculpture.
Another recent Weber Thompson project, Cedar Speedster, focuses on eliminating water runoff. In compliance with city environmental goals, it doesnt draw potable city water for toilets, urinals, landscaping or other non-potable uses.
There are a variety of tools for designers to accomplish this, including one-gallon toilets, gray-water catchments and large cisterns that store rainwater during dry summer months. Energy use monitored for two years after construction is completed for LBP certification.
High-tech firms usually have few private offices, so creating a multitude of intimate meeting spots away from community workstations is vital. Outdoor and rooftop decks and courtyards are in great demand, but a meeting nook can also be tiny. Wider stair treads and wider stairway landings are two examples.
Covered exterior and bright interior stairways allow tenants a brief connection to nature and tempt them away from energy-hogging, heart-clogging elevators.
Weber Thompson is a vigorous proponent of passive solar.
Electronically controlled window glazing increases worker satisfaction and cuts fuel consumption. Such systems can be manually controlled, but thats discouraged because humans cant compete with a computer in maximizing energy savings.
Performance dashboards in the lobby introduce visitors to the buildings green program and provide a real-time report on its energy consumption. After the pandemic, Weber Thompson hopes to use the dashboard as a way to reach out to students and other community members.
The importance of the movable feast is gaining traction among office designers. The popular restaurant Revel is anchoring Cedar Speedsters ground-floor retail. A top-rated beanery is de rigueur for any developer hoping to attract high-tech tenants. Such symbiotic relationships also create a variety of great options for additional meeting space.
Demand is increasing for mass timber projects like Cedar Speedster, says Cody Lodi, Weber Thompsons lead designer on the project. Its timber framing and cedar clad exterior are a nod to Fremonts roots. With Fremont, the character and culture is already there. Its a very eclectic neighborhood, and they wear that on their sleeve.
Mass timber exudes warmth and outperforms concrete in carbon metrics, he adds. Weve all learned some lessons, but were proving out our passion for sustainability, health and wellness, and building connections to the outdoors.
Seattle magazine Executive Editor Rob Smith contributed to this story.