100 Best Companies to Work For
100 Best Companies to Work For 2019: Large Companies
These companies more than 150 full-time Washington employees were voted Best Companies to Work For.
By Rob Smith June 18, 2019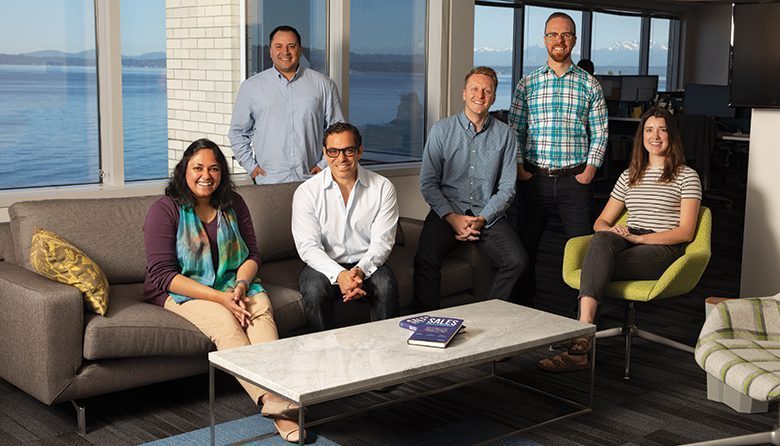 This story appears as the cover story of the July 2019 issue. Click here for a free subscription.
Rankings are derived from scores assigned to each company based on confidential employee surveys. The city reference is the companys home office and the employee count represents the companys full-time Washington workforce. Quotes are actual comments by employees.
1. OUTREACH INC.
"I miss going into the office"
Location: Seattle | Employees: 220
When Outreach CEO Manny Medina was introduced as one of Seattle Business magazines Executive Excellence Awards winners this year, the audience cheered wildly.
Theres been a lot to celebrate at the cloud-based sales automation software company this year. In April, Outreach raised a staggering $114 million in a Series E funding round, pushing it past the $1 billion valuation mark and placing it into elite unicorn status. Outreach has now raised $239 million since it was founded in 2013.
Today is a momentous day not only for our founders, partners, investors, employees and family, but for our customers the more than 3,300 businesses that trust us to help fuel their growth, Medina wrote in a company blog post announcing the round. We will expand in the coming months by doubling our machine learning team [and] increasing our international footprint.
The accolades keep coming. Outreach was honored as Service Provider of the Year at the 2019 AA-ISP Leadership Summit and was recognized as an April 2019 Gartner Peer Insights Customers Choice for Sales Force Automation. And now the company is No. 1 on Seattle Business magazines list of 100 Best Companies to Work For in the large company category as voted by employees.
Almost 50 employees sang the companys praises on nomination forms, noting the collaborative culture, diversity of thought and transparent communication. One noted that the company offers amazing paternity and maternity benefits, including paying for a night nurse for six weeks after birth. Another wrote, Outreach is the real deal. This is my sixth company and Ive never had great leadership, a great team, great culture and great vision all wrapped up into one.
But perhaps the highest compliment came from an employee who often works remotely: I like the option of working from home, but it shows how good the office itself is when I miss going into the office if I havent been in for a couple days.
2. BOB'S HEATING AND AIR CONDITIONING
Woodinville | Hvac Installer And Service Company | Employees: 300
Been working here for 14 years and love the freedom and the challenges this company brings. Also good benefits and wonderful management.
3. PARAMETRIX
Seattle | Engineering Company | Employees: 306
What I like most about Parametrix is the employee stock-ownership plan, which motivates all employees to feel responsible for and share in our team success. I think its a major factor in employee retention and happiness.
4. PAYSCALE
Seattle | Compensation-Software Company | Employees: 320
Love it here. Been here three years, and for a millennial, thats a long time. Ive had many opportunities to grow and advance my career, and Ive been compensated well for my work.
5. LOGIC20/20
Seattle | Business And Technology Consulting Firm | Employees: 187
The leadership cares, benefits continue to get better and better, and I am continuously challenged keeping it fun and interesting. Really enjoy working here!
6. ZIPWHIP
Seattle | Text-Messaging Software Company | Employees: 264
The company focuses on making employees happy, reacting to issues (even to relatively minor ones) to improve the working environment. Certainly, expectations are high, but so is recognition for your work.
7. MUTUAL OF ENUMCLAW INSURANCE COMPANY
Enumclaw | Casualty Insurance Company | Employees: 382
My family is in awe over the perks, benefits and corporate culture here. There is an understanding that for the company to be successful, the employees need to feel successful and appreciated.
8. PUSHPAY
Redmond | Software-As-A-Service Company | Employees: 255
Pushpay invests so much in us, with the amazing environment, nutrition, benefits, communication with our leadership and constant development opportunities in and out of the office.
9. CLARK NUBER
Bellevue | Accounting Firm | Employees: 164
The firm values its employees and shows it through our great work environment, listening to employee feedback and the great salary/benefits packages offered.
10. SEQUOYAH ELECTRIC LLC.
Redmond | Electrical Contractor | Employees: 405
Company values and the feeling that every employee is key to the success of the company, and Sequoyahs tendency to take a personal interest in the welfare of its employees, foster a cohesive culture that feels like family.
11. EXTRAHOP
Seattle | Enterprise Cyber-Analytics Company | Employees: 231
Were a thriving, high-growth security company in the Seattle area where team members are respected and challenged. The company is on a mission, and its exciting to play a part in it.
12. SMARTSHEET
Bellevue | Work-Management Software Company | Employees: 750
I like the communication, learning opportunities and feeling of trust between employees and management. Benefits and salary are good, and the opportunity to feel ownership of projects is good.
13. YESLER
Seattle | B2b Marketing Agency | Employees: 166
Im an old-school Seattleite who has worked at Nordstrom and Starbucks, and I can honestly say Yeslers devotion to service and a respectful work environment are the equal to these legendary companies.

PITCHING IN. Pitchbook Data CEO John Gabbert, standing third from right, with, from left, Marilyn Van Gaver; Chad Yabuki; Sarah Anderegg; Rod Diefendorf , chief operating officer; and JoAnne Baldwin.
14. PITCHBOOK DATA
"Theres a lot of camaraderie and support available"
Location: Seattle | Employees: 355
At Pitchbook, all new hires spend their first two weeks at PitchBook University, a training program that teaches the fundamentals of capital markets. Everyone from Chief Operating Officer Rod Diefendorf to product development, sales and marketing personnel take the course.
It provides education, encourages cross-departmental collaboration and helps new workers understand the companys products, customers and culture.
Most people dont come to PitchBook with a background in private capital markets and its great way to understand the markets that we serve, says founder and CEO John Gabbert, who launched the data analytics company a dozen years ago. From a cultural perspective, its an opportunity for us to show how we work, and you have to ask questions. If you dont, we know its probably not understood.
Thats just the beginning of PitchBooks cultural cornerstones. The company, which was acquired by investment research company Morningstar Inc. three years ago, offers employees a $1,000 professional development stipend and a college tuition match up to $20,000 to help workers earn their MBAs.
The company offers a generous 7% 401(k) match and communicates corporate initiatives through monthly newsletters, quarterly all-staff meetings and team events, volunteer opportunities and brown bag lunches every Wednesday.
Theres a Trust Tree where employees can ask questions anonymously about strategy and culture. Wells Fargo bankers visit to explain how to save money and purchase a house. Theres also an inspirational speaker series.
Revenue is up 55% so far this year, Gabbert says.
Employees like what they see. One wrote on the companys nomination form, Theres significant runway to grow and accelerate within the company, which is a major motivating factor. Culture-wise, theres a lot of camaraderie and support available.
Says Diefendorf: When we think about culture, its very deliberate. Its our biggest responsibility.
15. EVERGREEN HOME LOANS
Bellevue | Mortgage Lender | Employees: 468
Evergreen does a great job at accommodating for growth before departments are stressed. They are also great at balancing policy, procedure and training stuff with fun and team-building stuff.
16. MG2
Seattle | Architecture Firm | Employees: 222
I enjoy coming to work every day and being a part of the community that is here. There is an energy within these walls of growth, encouragement and excitement.
17. STAY ALFRED
Spokane | Vacation-Rental Company | Employees: 157
I greatly appreciate the bump in benefits that we received this year. Better health care/dental and paid time-off policies were all rolled out this past year. In my opinion this was a tremendous success for Stay Alfred.
18. LEASE CRUTCHER LEWIS
Seattle | General Contractor | Employees: 251
In a booming market, Lewis as a company continues to think about the long-term business plan and well-being of their employees rather than doing whatever it takes to earn a quick dollar.
19. LIMEADE
Bellevue | Software Company | Employees: 160
My company excels at living out its values, from the leadership down to individual team members. Doing so fosters a genuine sense of community, as well as overall unity in our goals across the company.
20. VALLEY ELECTRIC
Everett | Electrical Contractor | Employees: 500
I personally feel that there are many opportunities available for my career to go in a number of different directions and the supportive staff to help develop the skill sets necessary to succeed on many levels.

21. BRIDGE PARTNERS
Kirkland | Business Consulting Firm | Employees: 198
Different perspectives, personalities and working styles are accepted, encouraged and valued. This goes beyond the typical corporate hand-wave to diversity. Its core to the firms DNA.
22. REAL SELF
Seattle | Online Community And Marketplace | Employees: 257
I like my ergonomic desk, soundproof cubes for calls or focus work, the view of the Sound, the lactation room with kitchen-style facilities for new mothers, weekly yoga and weekly meditation.
23. EXXEL PACIFIC INC.
Bellingham | Commercial General Contractor | Employees: 220
Every time I hear other people talk about their benefits, I always feel like Exxel offers more. They have created a very well-thought-out employee-based benefit package.

24. COLUMBIA HOSPITALITY
Seattle | Hospitality-Management Company | Employees: 1,009
I most like Columbia Hospitalitys dedication to a clear values system that sets the tone for our leadership, team members and how we impact our guests. It is the backbone of all we do.

25. THE SPUR GROUP
Redmond | Business Consultancy | Employees: 186
Spur believes that to flourish, the company must invest in a positive workplace experience. Types of investments include social and wellness activities, training, and opportunities to reflect on individual performance and career direction.

26. KINDERING
Bellevue | provider Of Services To Children With Disabilities | Employees: 199
The flexibility of hours is great. The level of trust that management communicates to staff on a regular basis to make independent decisions makes me feel valued and appreciated.

The nominating process for the 100 Best Companies to Work For starts in September and runs through December at seattlebusinessmag.com. Winners are recognized in the July issue of Seattle Business and at a gala celebration in late June at the Washington State Convention Center that attracts more than 1,300 attendees. For more information on the program, contact Ariana Taylor at [email protected].